This morning, I found out from my dad that there is a cyclone in Oman. At first he told me that there were heavy rains and I thought that was odd because it never rains in Oman this time of year. Then he said that it was due to a cyclone (that's what hurricanes are called on that part of the world). Apparently Cyclone Gonu reached the strength of a Category Five hurricane while it was over the Indian Ocean. However, it only hit the Oman coast at a strength of 60%. But that was enough to cause widespread flooding. Apparently, the wadis (seasonal streams) are overflowing. I hope everyone in Muscat is ok. The Omani Army is on alert and schools have been converted into emergency shelters. No deaths have been reported so far. Omani authorities have asked everyone to stay indoors. The storm seems to be dying down although heavy showers are still expected.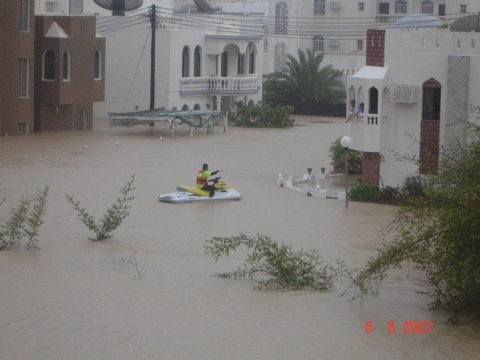 Street or River?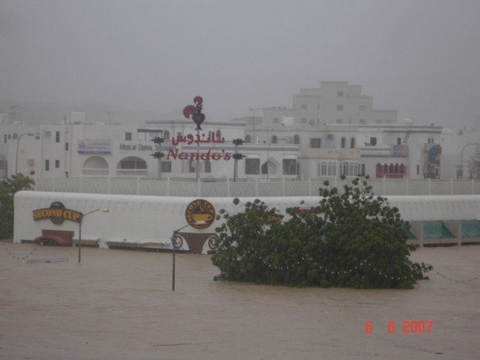 Nandos Submerged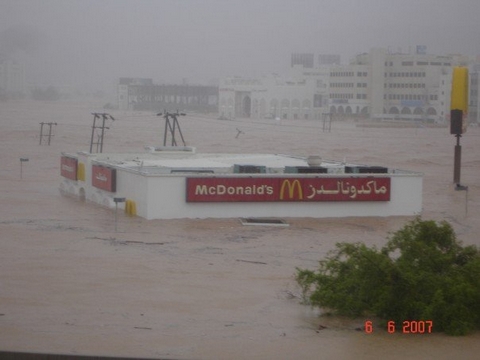 McDonalds Submerged
Update
Today (8th of June) I got a chance to look at the aftermath of Gonu. My parents called me last night and told me that things in Oman are pretty bad. They are staying put in Dubai at my uncle's place. There was no way for them to get from Seeb airport to their house. The roads were flooded. Low-lying areas like Qurum were completely submerged. I saw the pictures of the aftermath today. Roads have completely caved in. Bridges and walkways are just gone. All of Qurum - it's all gone. Completely damaged. I have no idea what they are going to do to those homes and all the shopping malls they have in the business district. There is so much water damage. The Omani roads weren't built with to handle this kind of weather. It looks like the water washed away all the sediment underneath the roads, leading to cave-ins and craters.
I heard that places like Wadi-Kabir and Al-Ghubra experienced flooding too. I wonder how my school is doing. My parents' house is fine. They live in a place that's kind of high.
I don't know if they have anything set up for international donations. Currently they have something that accepts donations from Omanis only. But please spread the world. These people need help.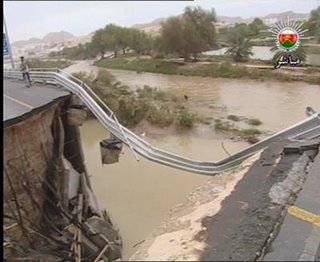 Darsait Bridge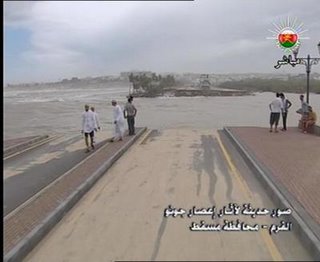 Love Road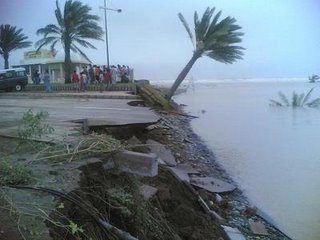 Seeb Beach Road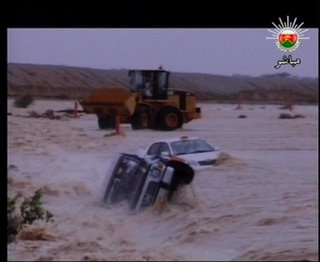 Cars washed away
YouTube Vidoes
Cyclone Gonu, Oman, Muscat
Muttrah Rains
Images courtesy mindazi.com and Sleepless In Muscat
Also check out Sleepless In Muscat and My Dhaba