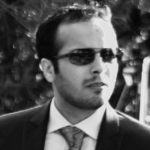 I'm Vivin Paliath. I'm a Software Engineer working at Infusionsoft and I live in Chandler, AZ. I'm also a former Sergeant in the Arizona Army National Guard and served for 9 years. I also served a tour in Iraq in support of Operation Iraqi Freedom from '05 to '06.
I'm a nerd and I pretty much enjoy all kinds of nerdy stuff which includes, but is not limited to Computers, Science Fiction, and Science. I also enjoy Latin Dancing, especially Salsa and Bachata. I like to play the piano and guitar, both at a very amateur level and I also like singing. Oh, and I love to read. I was born in India, grew up in Oman and moved to the United States when I was 17. I have been living here since.
I've maintained this site in various forms since 1999. Originally, it was a very 90's site complete with animated gifs, bright colors, information about aliens and UFO's, pictures of Gillian Anderson, and Malaika Arora. The site lived on Arizona State University's general server (running Solaris). Later, I think in late 2000 or early 2001, my good friend Marc Chung let me host my site on his server (running FreeBSD). In 2002 I built my own server (also running FreeBSD) and I've been hosting my site on it since then. I had my own (hopelessly inadequate and hacked together) blogging engine that I used to display my blogs. In 2009 I migrated over to WordPress. In the years that I've maintained this site it has never really departed from its purpose: a place for me to record my thoughts, opinions, and interests, and also a place to record accounts of significant events in my life.