Well, finally. Sorry for the extremely long delay. The Internet connection has been pretty lame here for the past month and a half. I haven't been able to get on for very long, and uploading anything is out of the question. Ever since a new unit took over the Wireless Internet, it's been absolutely terrible, and only works 20% of the time. But I don't have to deal with those bastards anymore, because I have wired satellite internet for around $45 a month. That's pretty sweet, considering that the internet cards for the wireless internet are $20 for 10 hours. The connection isn't spectacular, but it is pretty decent.
Now for an update of things that have been happening over the past month and a half. First of all, it has been a little over three months since I have been in Baghdad. Time sure has flown! I only have around a month or so before my mid-tour leave, which I'm really looking forward to, because I get to go to India for my cousin's wedding. My whole family is going to be there, so it should be a whole lot of fun.
Towards the end of January, I got to roll with 1st platoon on one of their missions, which was pretty neat. They actually had me ride along for a... well... for lack of a better term, a "tech support call". The Iraqi colonel's computer wasn't working and they needed me to fix it. We headed out at about 8 in the morning towards an Iraqi Juvenile Detention center. We basically hung about there for a while chilling in the Humvee. We bought some freshly baked bread off this Iraqi guy and ate that for breakfast. Usually people bring along stuff to munch on, but since this was my first time, I hadn't brought anything, so I went ahead and got some bread. While we were waiting there, I saw something that made my whole day. It was pretty much the sweetest and cutest thing I saw. A little girl, who couldn't have been more than two or three years old, was walking with her mother. She had a pink sweater on and pigtails and as she walked by us in our Humvee, she smiled shyly at us. We waved and smiled at her. Then as she was walking away, she turned around, flashed a huge smile and blew us all a kiss. It was a Kodak moment, and I wish I had my camera. The children here seem to like us. But I feel a little worried at times because they run so close to the Humvees, and I am afraid that they may get hit. The soldiers toss them candy and toys. They're always cheering at us and waving to us when we drive by.
After leaving the Juvenile Detention center, we headed to the IZ (International Zone) and had lunch at the Al-Rashid hotel. I bought a few DVD's there - there is a huge market in bootlegged DVD's - you can get movies and entire boxed seats for ridiculously cheap prices. The Iraqis love to haggle, so you can even talk them down a few bucks. I'm sure the RIAA and the MPAA are gritting their teeth. Or probably not, they're too concerned about American piracy - maybe if they changed their outmoded and dicatorial business practices something would change, but they're too stupid to do that. Anyway, enough of that, I feel a rant coming on.
After lunch, we headed over to the place where the Iraqi Colonel is at. Unfortunately, he wasn't there and so I couldn't fix his computer. I figure I'll go there again one of these days, I'm not sure when. Eitherway, it will be a change from what I do normally.
The other interesting thing I did was escort duty. We have Iraqis and TCN's (Third Country Nationals) who come into our base and work here. They need escorts when they move around base, and as a result we have Escort Duty. The first duty I had was escorting this kid around from one contractor site to the other. He didn't speak much English. But he would say "America Good! America Zain! Saddam Muzain!" ("America Good! America Good! Saddam Bad!") from time to time. I also escorted this other kid who actually spoke excellent English. In fact, he used to work as a translator. I asked him why he didn't go to school, and he told me that his father was killed when insurgents bombed a mosque he was praying at. He's the oldest son in the family, so he has to forgo school to make sure his sisters and younger brother can go to school, and also to put food on the table. Everyone has their opinions on this - I don't like to talk about mine because I feel that one's political views are irrelevant, especially if one is in the Military. I am here to do a job, and that's what I'll do, regardless of what I think. But at the very least I feel that the "freedom fighters"/insurgents are hardly doing anything for Iraqis. On the other hand I can see coalition forces doing things to rebuild Iraq. So whether you agree with the reason for this war, or whether you disagree - I'm just stating what I can I see here. I guess people want to know what Iraqis feel about us being there - because I do get asked that a lot. Just from my brief drive around, I saw a whole spectrum of reactions. From complete support, to indifference, to open hostility. It never is black and white. The few Iraqis I have talked to, support the coalition effort in rebuilding Iraq, but look forward to the day when they can take over and run their country on their own. But that is just my experience.
Other than that, not much is happening. The rains have finally stopped, and it hasn't rained for over a month now. Everything has finally dried up, but it also means that it's dusty all over again. But I'll take that over the mud. It's also slowly starting to warm up, but the weather right now is perfect - like Phoenix in the winter. Oh yeah, and it looks like my promotion is coming through and so hopefully, I should get my stripes soon. I'll be a Sergeant (E-5) now.
My job is just the same - each day is not much different from the one before, and they all just sort of blend together into one. We work long hours, at least 12 to 12 and a half hours a day, but it's not so bad because it makes the day go by quicker. We get one "down day" a week, where we get to sleep in, and just relax in general. I look forward to those.
I've been keeping myself busy and entertained by watching movies and reading books. I also acquired a guitar from a buddy of mine a month ago and I have been teaching myself. I wish I had more time to play, but I try to do a little bit each day. I think I am getting better. Since I know how to play the piano, I can apply some of the theory here. So it helps a little bit.
Oh yeah, and I did get my new computer - a new Alienware laptop and it totally rocks. The other one started dying on me - hard-drive failure - because of the dust, I think. Umm... yeah... so Chip... I know you're reading this... I'll uh... be needing a new laptop when I get back... I hope it's not a problem! Write this one off as WIA (Wounded In Action)!
Oh and check this out. So we spend a lot of time watching movies, right? I wanted to rent some somehow, so I figured I could try and use Netflix. I mean, we have an APO AE address, which is physically located in New York. They just route the packages from there. So theoretically, it should work. I tried to use Netflix to sign up, but the website complained that the address was invalid and wouldn't let me go any further, which was totally lame because the address is a valid one. So I figured I'd try Blockbuster, and although the website claimed the address could be invalid, it accepted it anyway. Within a week and a half, I got my movies! Pretty sweet, huh? I wonder if they know that they're shipping to Iraq! It takes anywhere frome one to two weeks for a movie to get here and around the same time to get back, so a round trip of two to four weeks. Which really isn't all that bad. But anyway, I think it's pretty sweet that I got Blockbuster to ship to Iraq!
What else... well, I can't think of much else. There really isn't much else to talk about actually. I am keeping well, eating well, taking care of myself, and all that good stuff. Oh yeah, and Keerthikutty, thanks for your care packages and the Nutella! Thanks for sending it all over! Also acha, amma, aniyammama and ammayee, thanks for all the stuff you sent over from India! All your care packages made me really happy! The simple pleasures mean a lot here, and thanks a bunch. And of course, I can't forget Michael for shipping my sweet new laptop over and all my home videos. Thanks a bunch buddy! It's much appreciated!
Oh, and an update on my mailing address. Our parent unit has changed and so there is a slight change in my mailing address. It is as follows:
Vivin Paliath
372nd MP - HHB 1/180th FA FWD
APO AE 09344
That's pretty much it for now. And as promised, here are some pictures: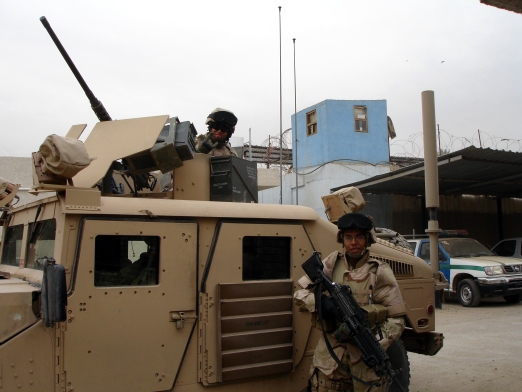 Grant and I by our Humvee at the Iraqi Juvenile Hall.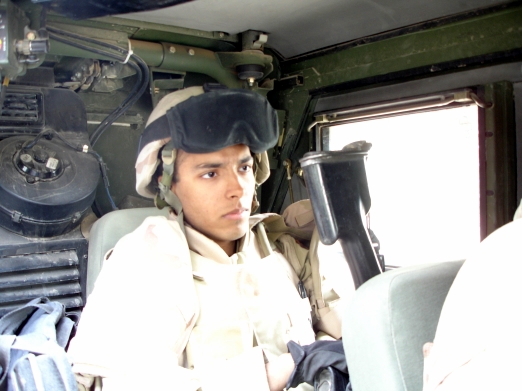 Inside the Humvee.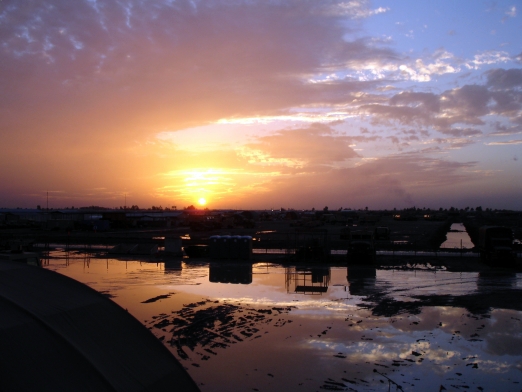 Sunset at the Motorpool.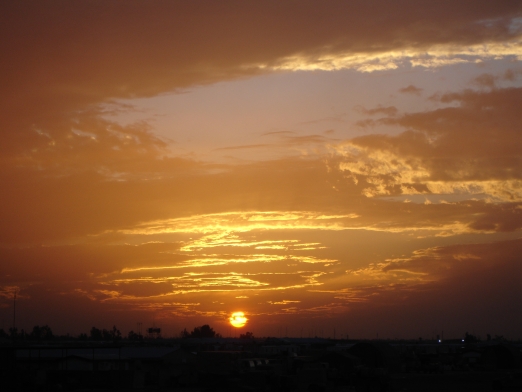 Iraqi Sunset.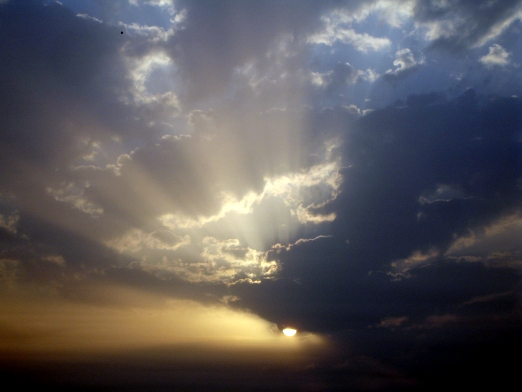 Iraqi Sunrise.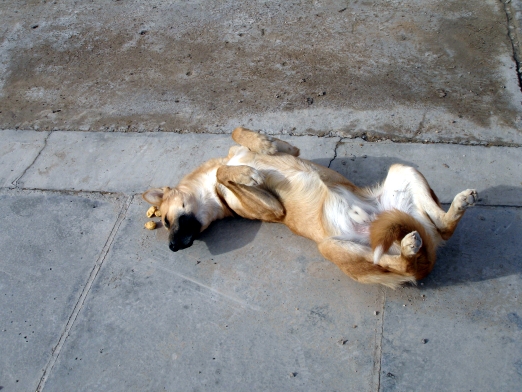 I met this friendly doggie at the KFC we have here. He was very playful.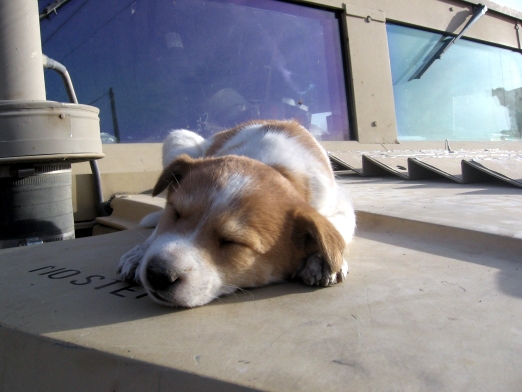 I didn't take this picture. I actually found it on one of the computers at the Internet Cafe. But I thought it was a really cool picture, so I'm putting it up here for all of you to see.
Update:
I have a Skype number that you can call me at. I'm usually available between 9 am and 2 pm and 8 pm and 9 pm Arizona Time. If you can't reach me, you can leave a voicemail too. The number is (602) 281-4616.